Everyday, SRS is working on behalf of individuals, handling thousands of people's medical records needs. Our system streamlines requests, accurately completes the appropriate forms and provides expert follow up by our Medical Records Specialists to get the medical records.
Click here to see How it Works.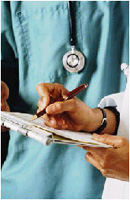 We offer a full-service, industrial strength solution, addressing all aspects of health information processing. We handle information requests and Release Authorizations, follow-up with Health Care Providers, process health information, and deliver records to our customers via secure Internet connections. Click here for Online Access Demo. Our staff handles HIPAA compliance issues and manages the review and payment of any reproduction and shipping charges.

Our clients outsource the hassle and complexity of handling health information to us. We carefully manage authorizations and protect privacy. Removing the burden from you, we generate requests and authorization forms, all but eliminating errors with DOB, SSN, phone numbers, addresses, etc. You get results.



Most individuals require a sub-set of their medical records file defined in a specific context for a specific purpose. SRS has a keen understanding of what the client actually needs and asks for it in an efficient way. Through a clean, on-line order entry system, our service and systems allow us to deliver back what the individual needs in a timely fashion, and at high-volume levels.